Reprinted by permission of the publisher from RACE AND REUNION: THE CIVIL WAR IN AMERICAN MEMORY by David W. Blight, Cambridge, Mass: The Belknap Press of Harvard University Press, Copyright © 2001 by the President and Fellows of Harvard College.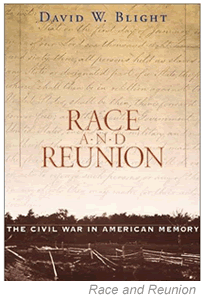 EDITOR'S NOTE: In 2001, David W. Blight published Race and Reunion: The Civil War in American Memory (Harvard University Press). More than five hundred pages in length, the book provides a history of "how Americans remembered their most divisive and tragic experience during the fifty-year period after the Civil War." Widely celebrated upon its release, the work won numerous awards, among them the Abraham Lincoln Prize, the Bancroft Prize, and the Frederick Douglass Prize.

In Chapter Seven of the book, "The Literature of Reunion and its Discontents," Blight observes that "[no] one wrote with more disillusion about the war than Ambrose Bierce." Surveying Bierce's war writings, both fiction and nonfiction, he argues that the soldier-turned-writer "embodied in the bleakest way the character of the American reunion. His very discontent was part of what made the nature of that reunion irrepressible."

For the password to read Blight's full analysis of Bierce, please write to bierce@psu.edu with "Blight Article" in the subject line.
The excerpt will be made available to readers via a .pdf file.
---
Copyright © 2007 The Ambrose Bierce Project and Penn State University. All rights reserved.